Wedding Dance Lessons
Private and Semi-Private Dance Lessons For Your First Dance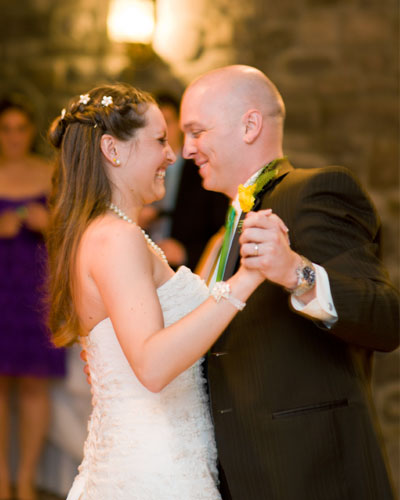 A Few Words About Private Wedding Dance Lessons
We've got to confess: private wedding dance lessons are pretty darn fun! There's music, there's your sweetheart, and there's a happy teacher letting you in on some new secrets to having a swell time... :-) Okay, we probably sound a little giddy, but... well, we are! We really like teaching wedding dance lessons, and that makes it a great experience for you. (Our students will back us up on this--they report that their dance lessons are one the best parts of getting ready for the wedding!)
In all honesty, we make sure that you enjoy yourself and really feel comfortable (even excited!) about your wedding dance. And that's important because the first dance is a big part of the reception. Guests wait until the bride and groom have had their first dance before getting on the dance floor. They are expecting you to dance, and in fact the party won't get started until you've had your spotlight moment.
What Are Private Wedding Dance Lessons?
Private dance lessons are just the two of you and your instructor, working together with your chosen song to create the kind of dance you want. You can choose plain or fancy, elegant or flashy, romantic or playful. You can choose to have set choreography created especially for you, or learn a handful of fun, stylish moves and just "cut a rug" in your own way for your spotlight moment. The possibilities are endless!
How Does Scheduling Work?
You choose your dates and times--it's as simple as that. Private lessons allow you to choose times that work for you. With everything you have to do, it's nice to have scheduling flexibility! Most group dance classes have fixed times and dates, but private lessons are completely up to you. You can have a different lesson time each week, or you can take a few lessons, then practice on your own for a while and reserve a last lesson as a refresher right before your wedding.
What's Included In Private Wedding Dance Lesson Programs?
Our private lesson dance programs are something special! Besides your wonderful lessons, we include a bunch of great goodies:
Detailed written notes of all your moves to make your practice easy
Dance "map" and choreography so you can visualize the big picture
Video feedback at every session--understand how to make corrections instantly!
Dress rehearsal with wedding petticoat or practice dress provided so you can feel comfortable and not worry about stepping on the dress
Video of final rehearsal--celebrate how good you'll look!
Private Wedding Dance Lesson Programs
Mini


Wedding Dance Program
In this program, you'll learn a dance that is smooth and pulled together but easy to do and remember, plus a simple, elegant entrance and ending. It includes 3 45-minute lessons and all the extras. You'll have a solid plan without having to memorize lots of choreography, so you can look natural and enjoy yourselves on your big day.

Easy Elegance

Wedding Dance Program
This package is perfect for a fun, beautiful dance with an elegant entrance and ending. It includes 6 45-minute lessons and all the extras. Choose your song beforehand, or we can help you figure out the best option if you're undecided. Highlight your natural sparkle with fun moves, gliding and twirls in the dance style that fits you and your song best, plus everything you need to look smooth, relaxed and natural.

Stunning in the Spotlight

Wedding Dance Program
Want to impress your guests, do a "surprise dance" or just have way more fun at your reception? The sky's the limit here! This program is the most popular choice for brides and grooms wanting to put on a show for their first dance. It includes 10 45-minute lessons as well as all the extras. You'll learn more moves to make a more glamorous and exciting dance, and add extra polish and sophistication to look and feel great in the spotlight.

If you'd like to learn a second style of dance (swing or salsa perhaps?), or get creative with a song medley, you can do that with this program. It will give you more time to master your first dance plus expand your repertoire in any other dance you choose, so you can have the best night ever!
Single Private Wedding Dance Lessons
(a.k.a. "Emergency" Private Wedding Dance Lessons)
If you're in a hurry, these can be a lifesaver! 2-3 lessons can relieve quite a bit of last-minute dance stress. Even one lesson will help you feel more confident about dancing in front of the crowd. Don't be afraid to call if you're down to the wire. We can work wonders without you feeling like you've added too much to your plate.
Semi-Private Dance Lessons
Semi-private lessons are shared private lessons, for example, you might like to bring your parents or wedding attendants with you. They are customized to the dance style you'd like to learn, and you learn at your own pace. Family semi-privates are especially popular for weddings!