"Ballroom Basics for Weddings" Workshop
a.k.a. "The Wedding Dance Crash Course"
Best Thing Ever For "2 Left Feet"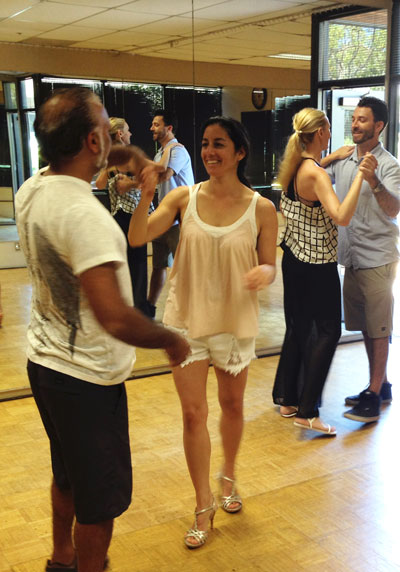 This is hands down the best way to start learning your wedding dance. If you've ever felt like a klutz, or never danced a step in your life, this workshop will seem almost magical in it's ability to move you from "completely in the dark" to all the left feet and right feet lining up and flowing! The results it produces are practically miraculous! And this isn't just us saying this. Listen to what our students say:
"Thanks again so much! We are so appreciative of your help and can't believe how far we've come!"
- Andi & Richard
"The class was well-organized and fun. Liz gave very specific instruction and useful technique. We were able to actually dance after one lesson--excellent and fun!"
- Suzanne R.
Part 1: Get In Sync Fast
You'll love our "Quick-Sync System"! It's been 20 years in the making, and it works! You'll learn several easy exercises that start with everyday movements you already do smoothly with little to no thought. (Who knew that waiting in line for coffee could help you learn to dance?) Since you don't have to stress about new footwork for these, learning to move in tandem with your partner is super simple. Yes, a little instant gratification is a beautiful thing!
Part 2: Driver's Ed, But Way More Fun!
After syncing up, you'll move on to navigating around the floor. It's a lot like driving, and almost as exciting as that feeling of freedom when you first got your license! Dancing corresponds to driving very well, so if you've ever driven a car (or even just a grocery cart), you'll ace this part. By the end of this section, you'll "drive" with your partner forward, back, curve around corners, do figure-8's, and make 3-point turns! (Congratulations--you've just earned your learner's permit!)
It's so common that avowed non-dancers finish class surprised at their new skills that we've stopped keeping track of how often it happens. And not only that, but they have fun getting there!
"I enjoyed finally moving together in this class! Liz danced with all the students and it really helped. She has a great sense of humor and is very easy to work with."
- Claudia S.
"It was actually worth missing the Chargers game for this."
- Joe H.
Part 3: Twirls? CHECK.
Finally, we'll talk about how to do twirls! This essential (right, ladies?) skill is easy, but there are some critical points that mean the difference between grace and actual injury, so you'll want to pay very close attention here. You'll learn two different types of twirls, and why it's important to use each one in the right place. (If they get switched, there's usually some serious fumbling around--not pretty.) One will create an elegant entrance for your dance, while the other works best for a glamorous ending flourish! Since these are highly photographed moments, you'll want to get them right.
---
Bring Your Parents and Wedding Party Members!
The more the merrier! Your parents, siblings and wedding party members will love this class also. And it's a great activity for everyone to spend some fun time together. You can bring the songs you'll use for your father-daughter and mother-son dances (or several songs if you haven't finalized them yet), and we'll play them for you to practice to during class.
---
Wait... There's Still More!
We're big believers in thoroughness (and awesomeness!), so you'll also receive the following bonuses when you take the workshop:
Dance Rehearsal Time
Near the end of class, you'll have an opportunity to have your own song played so you can do a full run-thru, including your grand entrance and twirl finish!


Complete Practice Guide
You'll receive a handout of the entire class contents for practice and review.


Class Summary Video
As class wraps up, we'll do a demo of all class material so you can record it on your phone, camera, or tablet. You'll have your very own custom class video to practice with!
Questions? Check out our
FAQ's page
.
---
Upcoming Ballroom Basics for Weddings Workshops:
At this time, we have not yet resumed live workshops in the studio. New dates are expected for Fall 2022.