Dance Lesson Gift Certificates
Give the Gift of Dance!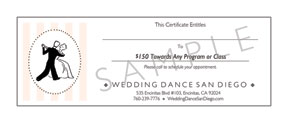 Dance lessons make a wonderful gift! If you or someone you know is getting married, this is the perfect way to help prepare for that spotlight "First Dance."
You don't have to worry about size or color or style--a gift certificate fits everyone! And your fiance/e, friend or family member will have a wide variety of dance styles and programs to choose from.
You can purchase, download and print out these elegant dance gift certificates from any device instantly. They are conveniently designed to fit in standard-sized business envelopes.
You may buy a certificate for any amount, but for immediate download choose one of the amounts below. If you'd like something different, contact us and we'll be happy to arrange to send you a custom gift certificate right away.
Instructions
Click the "Buy Now" button for each gift certificate you wish to purchase.
After completing payment, click the "Return to Merchant" button to view and print your certificate.
Gift Certificates
$75 Gift Certificate
---
$150 Gift Certificate
---
$250 Gift Certificate
---
$500 Gift Certificate